A core value in Coffee Collective is sustainability. Together with our fellow B Corporations, we have vowed to become Net Zero in the coming years. Along with this comes a huge responsibility for our take away packaging.
The sustainable solution EMBACO has tailormade for us is exactly what we were looking for. Not only is it eco-friendly and plant-based, but it is also aesthetically beautiful and goes perfectly with our visual identity. It is a true pleasure to work with EMBACO. They are able to deliver and always ready to help us out."
---
To ask us a question or enquire about our packaging, simply send us a message, or give us a call, we are here to help you!
---
A Perfect Pour
Founded in 2007 by three of Denmark's most reputable coffee connoisseurs, the award-winning Coffee Collective is now a local Copenhagen treasure. Experimenting with unique flavours in their dedicated roastery, they wholesale to other coffee shops, cafes, and restaurants, as well as serving directly from their own six stores. Focussing on sustainability from seed to cup, they explore the potential of coffee for producers and consumers alike. This growing brand raises the bar for the perfect pour, admired and enjoyed by coffee lovers around the world.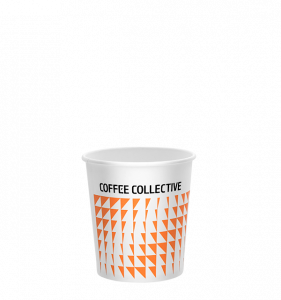 The Original Custom Cup
Coffee Collective came to us with a specific challenge – they needed their takeaway espresso cup to have the exact same volume as their dine-in porcelain cup. Establishing the required measure was easy, but creating a disposable cup with the exact same volume is more complex than it may sound. After filling the existing cup with liquid for an accurate pour, we set about developing our own mould. This required us to calculate the precise measurements for the top and bottom diameters, leading to us producing a prototype paper cup that was approved, produced, and stocked. In addition to this, the new custom paper cup needed to be transportable and so we got to work developing a beautiful lid design that looked good and was pleasurable to drink from. Now their delicious espresso is enjoyed on the go without a spill thanks to their custom cup and lid!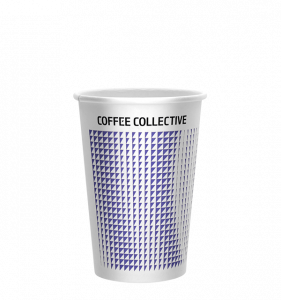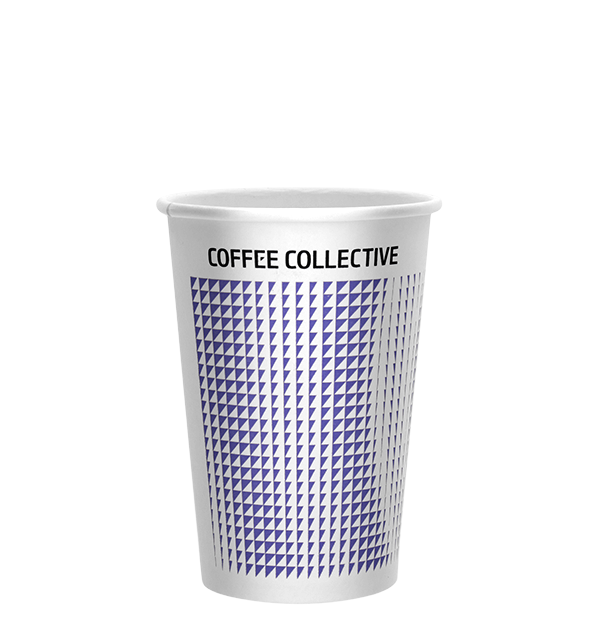 Switching to Sustainable
Coffee Collective are world-changers, prioritising positive impact and sustainable innovation. After working together for years, they came to us with a new challenge – to transition all of their packaging to eco-friendly, plant-based materials. We were delighted to help! And we already offered many sustainable materials in our range, but we wanted to ensure we had the best option for their niche – hot beverages. And so, after much research, we decided to introduce CPLA to our range. We used this material to change the internal coating of their coffee cups from oil-based plastic, PE, to plant-based bioplastic, CPLA, which is made from the byproducts of corn production. CPLA is a stronger, crystallised form of PLA which is suitable for hot temperatures.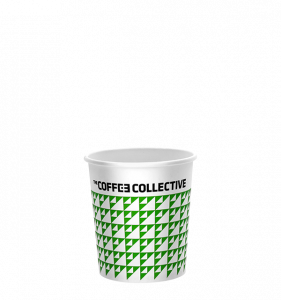 Compostable Cup for World-Famous Softice
With rich milk, freshly brewed espresso, sprinkled coffee grounds, this delicacy needed packaging that looks as good as it tastes! Coffee Collective approached us to produce a compostable custom ice cream cup for their new seasonal addition, which we gladly obliged, producing these from PLA coated paper.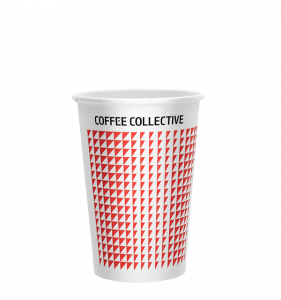 Precision Pantone Printing
At the same time, Coffee Collective was going through a rebrand, which meant changing the printing for all of their packaging. The instantly recognisable Coffee Collective pattern requires razor-sharp lines and the perfect Pantone match, meaning the machine used has to have a low tolerance and hit the exact colour every time. For this reason, both the coffee and softice cups we create are produced using Flexographic printing for a stylish and high-quality finish.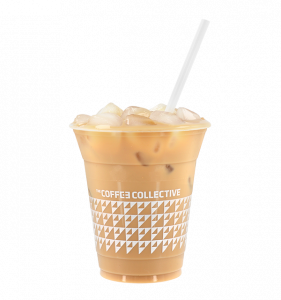 The Final Straw
Having recently expanded their range to include a cup for iced coffee, we again worked together to develop a takeaway cold coffee cup in the perfect size for their frozen beverage. A clear cup made of pure PLA, with PLA straws to match!
Now consumers enjoy a coffee experience that is better for the planet, and it tastes pretty darn good.
---
To ask us a question or enquire about our packaging, simply send us a message or give us a call, we are here to help you!
---