We believe in balance and EMBACO is a supplier that offers this – they are not simply focused on the bottom-line.
Their custom packaging design for Garbanzo encapsulated Simon's vision while also creating an environmentally sustainable solution at reasonable prices.
They're great to work with and we always recommend them"

– Søren Skaarup – CEO, Garbanzo
The sumptuous Middle-Eastern eatery
Exploring exquisite Middle-Eastern flavours, Garbanzo is known for their modern take on traditional pita. Offering a fresh menu that celebrates the highest quality ingredients, this 'health-mecca' continually bakes their bread throughout the day for that perfect crunch. Packed with the most nutritious fillings, this is a meal to remember.
A pita of a packaging problem
Having heard about EMBACO through one of our loyal clients, the Founder of Garbanzo, Simon Jensen, came to us when the concept was in its infancy. He had the desire to give his customers the best to-go experience with his new product – and that meant having the right packaging for the job. Plus, given their startup status, cleverly branding and marketing the business was equally as important. After consultation, we established that, as well as ensuring the warmth of the bread was maintained and that it was easy to consume on the go, we needed a design that was biodegradable and eliminated the need for secondary packaging.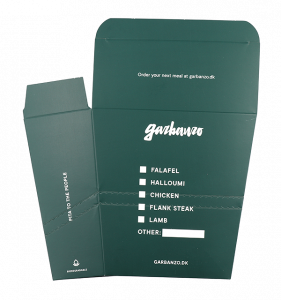 Rapid paper prototyping
We quickly concluded that no existing designs suited both the marketing and consumption of high-end to-go pita breads. The typical aluminium foil is messy, and the standard boxes couldn't hold it together. So our team got to work, custom engineering a solution for pita-eating perfection. Our account managers collaborated with our inhouse design team to develop a paper prototype in the shape of an inverse rectangular-based pyramid. This allowed staff to easily and speedily insert the pita and seal the lid. Due to our procurement team's close relationships with our suppliers, we were able to get this custom design rapidly prototyped.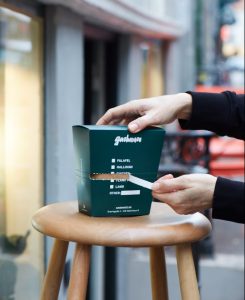 Tearaway to-go
We then added a unique tear-away strip around the middle of the box that allowed it to be opened in half, for an interactive and memorable 'unboxing' experience. Upon testing this prototype, we developed a more ergonomic tearaway design which allowed customers to rip the strip from the bottom of the box. We created this packaging in uncoated paper with a matte varnish so it remains biodegradable. It is printed using Flexographic machines for pantone-perfect printing.
Supporting the startup scene
One month into this two month process, Garbanzo needed to plan out their financials and so we created a cost-estimate of their packaging for them. After supplying Garbanzo multiple prototypes for testing, the product was approved. We believed in their business and we wanted to support this enterprise, so we stocked 6-9 months of their custom packaging in our warehouse, which gave them several benefits; lower item prices, easier ordering through our webshop, plus invoicing for deliveries one week at a time which meant low pressure on their cash-flow.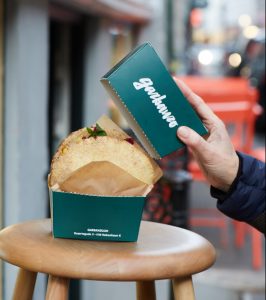 Everyone gets Garbanzo
Garbanzo opened to considerable hype – compounded by their custom tearaway Pita box. Customers wandered the streets of Copenhagen consuming delicious smelling pita from never-before seen packaging, and Garbanzo became a talking point all over town and socials. Now, the Founder tells us that he never tires of looking at the box, and he tells us how happy he is with the final product and the process.
---
To ask us a question or enquire about our packaging, simply send us a message, or give us a call!
---